Considering that 2018 took about 10 years to finish, it should come as no surprise that I ended up finishing over 60 books. That's not necessarily that big a number, but it's the most I've read in years – or at least since I kept track of this sort of thing. As an ironic counterpoint, though, since 2018 was a year filled with anxiety, dread, and depression, I made it a point to try to emphasize quality over quantity. Anything that didn't immediately grab me, I put down. Fortunately, most of what I read this year was excellent.
The other thing, with respect to everything I read this year, is that I tried my damnedest to expand my reading horizons beyond primarily white cis men. I read more women this year than I think I ever have before, and I read more than a few books translated from other languages. I say this not to earn a pat on the back; I'm just saying it because it's true.
An earlier draft of this post was going to have a few words on every single book I read or attempted to read, but I soon realized that wouldn't be fun for anybody. So I'm gonna condense a bit on focus on the highlights.
The year started off with a bang, as the first book I finished turned out to be one of my favorites: Spoonbenders, by Daryl Gregory. It's a lively, fun cross that felt like a mashup of Royal Tenenbaums and Carter Beats the Devil. This was soon followed up Fire And Fury, which was as trashy as it was depressing. (That was also about as much Trump-related prose I could handle; I didn't read the Woodward book.)
Next up was Nick Harkaway's Gnomon, which was enjoyable even if it never quite lived up to my hopes for it. (I'm not sure anything will ever top The Gone Away World, which is one of my all-time favorites, but if anybody can do it, I'd like to think he could.) Then there was Void Star, which I sadly couldn't get into – I would like to give it another shot – the premise is really interesting – but the writing was almost too poetic and flimsy.
At some point I decided to dip back into my backlog and finally read Donna Tartt's The Secret History, and, well, yeah, that book is incredible. I followed that up with some earlier George Saunders that I'd never gotten around to – In Persuasion Nation and CivilWarLand in Bad Decline. (This was, as it turns out, the beginning of this year's infatuation with short story collections – I also finally got around to Laird Barron's The Imago Sequence.) I should also note that the afterword in CivilWarLand is one of the most inspiring things I've ever read.
And then we arrived at my first nominee for Book of the Year: The Immortalists by Chloe Benjamin. An absolutely breathtaking portrait of four siblings, each given the date of their death by a psychic, and the ensuing aftermath that comes with that knowledge. I adored this book; it's moving, tender and thoughtful, and is compulsively readable. This book set a very high bar for the rest of the year.
And then I read The Sky Is Yours by Chandler Klang Smith, a fun bit of world-building with three great and distinct characters; Tim Wirkus' The Infinite Future, which never quite delivered what it promised; A.J. Finn's The Woman In The Window, which is a fun homage of Rear Window that will certainly make for a fun movie; and then The Gone World, which is a time-traveling murder mystery which gets buried under its own flowery prose.
And then we got to Red Sparrow, which was the year's first book I deliberately and angrily put down and refused to finish. Shitty premise, shitty writing.
At this point I needed to cleanse my palate a bit and decided to re-read the first two mega-epics in Brandon Sanderson's Stormlight Archive, so as to then read Edgedancer (a mini-novel that bridges the gap between book 2 and book 3) and then Oathbringer. I appreciate Sanderson's prolific nature, and his world-building continues to be among the best in the business, but that's 3500+ pages of nonstop Sanderson and I definitely needed a palate cleanser.
So I read a bunch of short fiction. Samantha Hunt's The Dark Dark was not quite what I thought it was going to be, but it was really quite good; Stephen King's The Outsider was a really good way of bridging the gap between his procedural Bill Hodges trilogy and his usual supernatural horror; Fuminori Nakamura's The Thief was a very interesting and brief philosophical meditation on pickpocketing.
I finally got around to reading Kazuo Ishiguro's Never Let Me Go, which was staggering. It didn't necessarily knock me out the way it did for friends of mine, but it's still quite something.
I feel bad about how I treated Lauren Groff's Florida. I started reading it in June, but didn't get around to finishing it until a week ago. I'd put it down only because I felt like I needed to switch things up from all the short stuff I'd been reading; I certainly didn't mean to give it short shrift. In any event, I'm glad I finished it, and I do plan on reading the rest of her stuff that I've got in my to-do list.
I think I wrote here earlier this summer about Phenomena, Annie Jacobsen's non-fiction account of the US Government's research into paranormal activity, which is definitely the sort of thing that scratches certain itches of mine. It's a fantastic read, well researched and full of remarkable revelations.
And then we get to what might very well be my favorite book of the year: Claire North's extraordinary The First Fifteen Lives of Harry August. I have a soft-spot for time-travelling stories, and this is one of the best ones I've ever come across. Indeed, I ended up going on a bit of a Claire North bender after this – her Gamehouse trilogy was excellent, and 84K was also quite brilliant, and Touch wasn't quite as great as everything else but it's still quite good.
At this point I started moving to some darker fiction. Joe Hill's Strange Weather is probably the best stuff he's written – at any rate, I do think I prefer his short fiction to his novels. Paul Tremblay's The Cabin At the End of the World is seriously fucked up, which is to be expected from Tremblay. Harold Schechter's Hell's Princess is a lurid and morbid true-crime story that never quite arrived at any conclusions, which kinda defeated the book's purpose. The Price You Pay, which is written by "Aiden Truhen" (a pseudonym that might belong to Nick Harkaway) is essentially what the Crank movies would look like if they were books. V.E. Schwab's Viscious was, well, viscious – I do need to get to the sequel. Arkady Strugatsky's Roadside Picnic is a perfect example of why reading books from other cultures – especially science fiction – is so necessary. Laura van den Berg's The Third Hotel did not quite wow me as much as I'd hoped it would, but it was remarkably surreal – as was Samanta Schweblin's Fever Dream, which is exactly what it sounds like.
I'm trying to keep things moving along but I'd be remiss if I didn't also mention David Demchuk's The Bone Mother, a super-spooky collection of dark stories, and Karen Dionne's The Marsh King's Daughter, which was deep and dark and moody and absorbing.
Moving on… I finally got around to John Crowley's Ka: Dar Oakley in the Ruin of Ymr, which is just absolutely gorgeous. I think I wrote about this book earlier in the year; I don't know how to describe it other than that it's an astonishing modern myth. I have a bunch of Crowley in my to-read pile, and I look forward to setting aside a long period of time in which to soak them all in.
I was one of the many who got sucked into the Netflix adaptation of Shirley Jackson's The Haunting of Hill House, but I made sure to read the book first. I understand why fans of the book hate some of the choices that were made in the series; I still liked them both.
Emma Donaghue's The Wonder was fantastic, and I can only wonder how I'd react to it if I weren't a parent. There's certainly a straight line running between this and her earlier Room, to be sure.
Tana French's The Witch Elm was a refreshing break from her Dublin Murder Squad books; it also might be one of the best things she's written. Likewise, Haruki Murakami's Killing Commendatore was much better than the last few books he's written, though it suffers from some of the same weird tics he's developed (i.e., super-creepy attempts at erotica, passive protagonists, etc.).
Then I got to this wondrous book: Juan Gabriel Vasquez's The Shape of the Ruins. I'd originally bought it because it sounded like it had a Foucault's Pendulum sort of vibe, albeit based in Colombia; but it turned into something both larger and more intimate. JGV is a marvelous writer and this translation is wonderful. I haven't stopped thinking about it since I put it down. Indeed, it might be my favorite book of the year, except that I then read…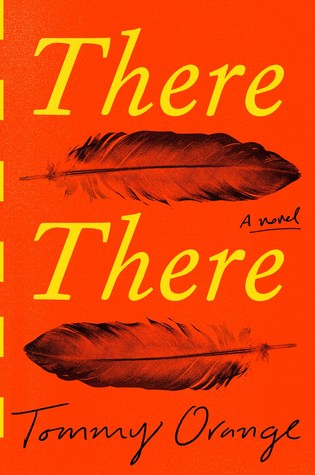 Tommy Orange's There There should be required reading for every American citizen, even if only for the prologue/introduction, which is among the most gut-punching things I've ever read. This book concerns what it means to be a Native American in a country that has been taken away from it; how to retain one's culture while assimilating into another that is thrust upon it; it is vibrant and gorgeous and utterly necessary.
I also got to Lisa Halliday's Asymmetry, which I liked, though I'm not quite sure the third section held together for me; I also suppose I need to start reading Philip Roth (I have three of his books in my to-read list, of course). And Ling Ma's Severance got quite a lot of end-of-year hype, and for good reason; I've read quite a lot of apocalyptic fiction in my time but this was a unique take on it.
But the last book I finished (as of today, 12/19) was Nana Kwame Adjei-Brenyah's harrowing, bleak and utterly brilliant Friday Black. This collection of stories is somewhat reminiscent of Black Mirror, if Black Mirror wasn't afraid to take on race head-on. It is startling and vivid, dark and urgent. The final story in this collection will haunt me for a very, very long time – they all will, actually. Again, along with There There, this is absolutely necessary reading.
All in all, this was a tremendous year for reading; there wasn't much that I didn't like, and even the lesser things in my pile were very quickly devoured. If there's one good thing about living in a nightmare, it's that I'm very easily distracted, and nothing helps the time go by like getting lost in a ton of great books.